Your Sports + Fitness Journey powered by  

interested in improving
my abilities and
playing the sport I love
at higher levels.
learn more
Who Uses 

?
If you have a large customer base of youth athletes or adults
interested in health and fitness, our platform can help you
extend your brand into the highly valued training and
development market. Our unique training apps have helped
hundreds of thousands of users achieve their goals by
providing a personalized experience that delivers better
results, more quickly and safely. We also aggregate
together the fragmented lifestyle activity that revolves
around your users passion for sports/fitness to deliver
hyper targeted content, products, and services, creating
significant new revenue streams for your business.
And it is all turnkey. Contact us about our private label
program to get started today.
What is

?
Re-Play is an Exciting Intelligent Tech Platform that Includes:
– Highly Personalized Training/Fitness + Nutrition Apps
(Adult Fitness, Individual Sport, and Youth Multi-Sport), plus Integrated
– Lifestyle Enabled Resource Guide that Aggregates all of the Fragmented
Information, Products + Services, that Revolve Around Your Sport(s) to Provide
Everything You Need in One Place…And Everything is Personalized Just for You.
Re-Play's Technology Will Focus and Accelerate Your Development, Quickly
Improving Your Physical Abilities (Strength, Conditioning Speed and Agility),
While our Resource Guide will Give You Everything You Need, When You Need it,
to Get the Most Out of Your Sports/Fitness Experience.
DEVELOPMENT/FITNESS
Re-Play Offers Physical Training for:
LIFESTYLE ENABLED RESOURCE GUIDE
All of the Latest Lifestyle Information, Products + Services:
o Adult Fitness
o Youth Multi-Sport
o Baseball/Softball
o Soccer
o Football
o Basketball
o Ice Hockey
o Field Hockey
o Golf
o Lacrosse
o Volleyball
o Tennis
o Swimming
o Track + Field
o Wrestling
o Gymnastics
o Cheerleading
o and Many More!
o Equipment
o Technology
o Apparel/Uniforms
o Travel/Lodging
o Health/Nutrition
o College Athletics
o Scholarships
o Recruiting
o Events
o Attractions
o History
o Terminology
o Training
o Recovery
o Rehabilitation
o Entertainment
o Shopping
o Articles
o Restaurants
o Skill Drills
o Academics
o Memorabilia
o Mental Side
o Instruction
o Books/Movies
o Fundraising
o + 100's More!
How

Works
We use a combination of our proprietary technology coupled with your data to deliver amazing results!
Just log in each day and our system does the rest.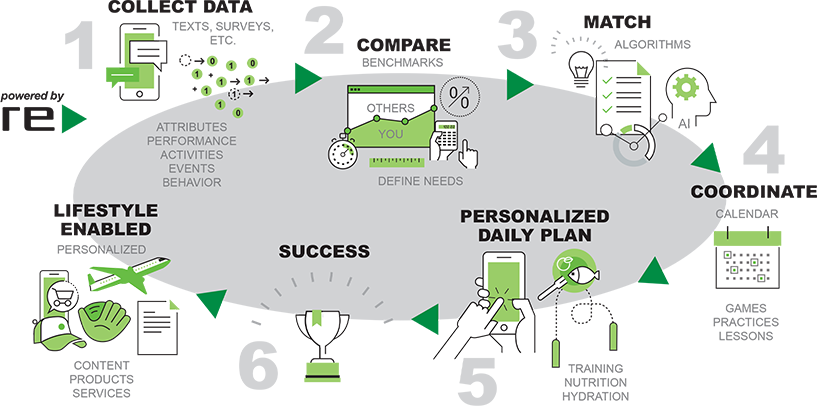 © 2022 RePlay     All Rights Reserved      Patents Pending
At RePlay we take your privacy seriously. Your personal individual info and data is extremely private information. All shared information is 100% at the exclusive control of the user. We will never share, rent or
sell your information. App Users – Playing sports and working out involve risk of injury or at times even death. User acknowledges that the services are designed to provide recommendations that guide player
development, but ultimately all training decisions and activity are the sole responsibility of the athlete and/or their parent/guardian, if the athlete is a minor. User acknowledges that the services provide
suggestions based on scientific analysis and user supplied information, however each athlete's personal circumstances may be different and require the use of judgement whether or not the recommendations
apply to your situation, and if they can be completed by the user without any injury or harm. By using the services the user agrees to hold harmless and release RePlay, its officers and affiliates, should
any injury arise from using the services
Using the

Ad Platform to Monetize Your Existing Apps
If your audience is not interested in training or fitness we can still help you generate revenue
using your existing apps, while eliminating the issues currently being experienced by 3rd party
advertising aggregators/servers due to Apple and Google's app tracking requirements.
Using our API (application programming interface) and open architecture, we take any user
data you collect and use it to drive our lifestyle enabled advertising system. This provides you
a turnkey solution for serving up hyper-targeted content and ads to your users as a closed loopsystem (no 3rd party involvement), while generating significant revenue for your business.
Contact us for more information.

The Re-Play App is Currently Available Through the Following Partners:

Perfect Game is the world's largest elite youth baseball and softball platform and scouting service, producing over
10,000+ events, 300,000+ games and showcases each year across the country. Perfect Game is dedicated to giving
amateur players exposure to take their game to the next level, whether that be in college or in the professional ranks.
At Perfect Game events, players are performing with top-level competition in front of college recruiters and professional
scouts from all over the country. Because of this, these events prove to be invaluable to the college coaches as well as
Major League Baseball, as they can scout a large population of talented ballplayers in one location. To date, more than
1,600 players that have played in a Perfect Game event have also played in Major League Baseball. Since 2003,
13,324 Perfect Game alumni have been selected in the MLB First-Year Amateur Player Draft. In the 2021 Draft,
for example, more than 95 percent of all players selected had played in Perfect Game events, and every player selected
on the Draft's first day had previously attended Perfect Game events. And in the 2021 College World Series, every player
on the rosters of national champion Mississippi State and runner-up Vanderbilt had played in a Perfect Game event.
Company
When you log into an app that is "powered by Re-Play" you are about to embark on an athlete development journey created just for you, using our one-of-a-kind, sophisticated platform for individual, personal physical training, and fitness. Our platform is set up to support dozens of sports and general fitness. It leads the industry in both the areas of world class technology and sports/fitness expertise. When you use our system, you are reaping the benefit of the knowledge of some of the best programmers and engineers in the world, plus the expertise of the hundreds of coaches, trainers, nutritionists, and industry experts from youth level to professional, for virtually every major sport, who have contributed to making our platform what it is today. And with over 5 years in development, and 1.5 million lines of code written, there simply is no other solution that can focus and accelerate your physical development and deliver a more satisfying, safe, and robust sports experience available anywhere.
While opinions may differ, our network of coaches and trainers agree on one thing – to be a competitive athlete, you must have a certain level of physical ability. The primary measurements of physical abilities include strength, conditioning, agility, and speed. The physical side of training and development is the focus of our system. We have helped many thousands of athletes safely accelerate their development by just logging in each day, and undertaking a short list of narrated, video exercises. Then, when you show up on the field, court, track, or course, you are better prepared physically, and your coach can focus on teaching you the skills needed for success in your specific sport(s).
Virtually everything in our system is data-driven, to create a one-to-one relationship with you, however through a variety of methods, we do our best to make collecting and entering this data as quick and easy as possible. For example, our unique text and response interface simply texts back and forth the first time you use the primary features of the app to gather some basic information. Once this info is in our system you will not need to enter it again. You can just log in and get to work.
With respect to your data, we want you to rest assured that we never share or sell any of your information. You have complete control. Your data is simply that…your data. Any sharing of your information must be initiated by you. So, if you want to send your profile, an accomplishment, or update from the app to a family member, coach, or administrator, that is within your sole and complete control using text, email or by posting to social media.
We hope our platform helps you achieve 2 goals – 1) become the best physical version of yourself you can be, and 2) get the most out of your sports/fitness lifestyle. Aside from the core features that provide daily, personalized training and nutrition, you will find a variety of additional components that help you bring your sports journey to the next level and get the most out of your experience. Our resource guide contains everything you need to support your sports and fitness lifestyle including the latest equipment and apparel, plus extensive content, information and offers for lodging, dining, entertainment, events, attractions, recruiting, scholarships, careers, associations, and hundreds of other categories of information and items that you need. And as our app gets to know you better, it will automatically present items that match your interests. You will also notice certain events, actions and behaviors might dynamically generate items you need as well.
We thank you for your interest in our services. We are confident that once you are "powered by Re-Play" you will see your physical abilities reach a new level you may have never thought possible. We wish you great success both in life and in sport and appreciate you taking us along on your journey.
The Team @ Re-Play
Privacy PolicyUpdated 02/2022
This privacy policy governs your use of software application for mobile devices that were created by Re-Play Athletics (RE-PLAY). The Applications help the user collect statistics and data, analyze the information, generate reports, help direct training and development, and share information with others within the approved guidelines of the user.
What information does the Application obtain and how is it used?
The applications and online tools (collectively the PLATFORM) collect information from a broad range of interviews, questionnaires, databases, devices, software, other apps and a variety of data driven sources. Data collected includes general information about the user, the session during which they participate in the sport or related training, the person recording the data, and the outcome of the session. This information is used to help the Athlete and their support group (parents, friends, family, coaches, teachers, recruiters, etc.) to better understand the results of their efforts and to help them assess needs and direct future training opportunities. The App also collects account information and sharing preferences of the licensed user. The platform does not share any information about the user(s) or the data collected without the express written consent of the user, with the exception of aggregated data, which does not include personal information, which is aggregated together anonymously and used for benchmarking purposes.
User Provided Information
The Platform obtains the information you provide when you download and register the Application.
When you register with us and use the Applications, you generally provide (a) your name, email address, age, user name, password and other registration information; (b) transaction-related information, such as when you make purchases, respond to any offers, or download or use applications from us; (c) information you provide us when you contact us for help; (d) information you enter into our system when using the Application, such as other personal or performance (health/fitness) information used by our Platform to define and direct your training and development or provide content in the form of educational information, products, services, events or promotions for such that matches your expressed interests.
We may also use the information you provided us to contact your from time to time to provide you with important information, required notices and marketing promotions.
Automatically Collected Information
In addition, the Applications may collect certain information automatically, including, but not limited to, the type of mobile device you use, your mobile devices unique device ID, the IP address of your mobile device, your mobile operating system, the type of mobile Internet browsers you use, and information about the way you use the Application.
Do the Applications collect precise real time location information of the device?
The Applications may collect information about the location of your mobile device but solely for the purposes of providing the user targeted content. We do not share this information with any third parties.
Do third parties see and/or have access to information obtained by the Applications?
Only aggregated, anonymous data is periodically transmitted to external services to help us improve the Applications and our service. We will share your information with third parties only in the ways that are described in this privacy statement.
We may disclose User Provided and Automatically Collected Information;
– as required by law, such as to comply with a subpoena, or similar legal process;
– when we believe in good faith that disclosure is necessary to protect our rights, protect your safety or the safety of others, investigate fraud, or respond to a government request;
– with our trusted services providers who work on our behalf, do not have an independent use of the information we disclose to them, and have agreed to adhere to the rules set forth in this privacy statement.
If the Company is involved in a merger, acquisition, or sale of all or a portion of its assets, you will be notified via email and/or a prominent notice on our Web site of any change in ownership or uses of this information, as well as any choices you may have regarding this information.
What are my opt-out rights?
You can stop all collection of information by the Platform easily by uninstalling the Application. You may use the standard uninstall processes as may be available as part of your mobile device or via the mobile application marketplace or network. You can also request to opt-out via email, at info@replay.app. You may also use the link on your My Account page, or contact the Company directly to have your registration removed from our system.
Data Retention Policy, Managing Your Information
We will retain user provided data for as long as you use the Platform and for a reasonable time thereafter. We will retain your information for up to 24 months and thereafter may store it only in aggregate. We may, at our sole discretion, store your data longer than 24 months. The only exception is if you elect to delete or cancel your registration. In this case your data will be fully removed from our system and is permanent. Accounts that are deleted are not recoverable.
Children
While our app and its content are suitable for all ages, because our platform provides guidance for training purposes, minors under the age of 18 requires the permission of a parent or guardian during the registration process to use our Platform. If a parent or guardian becomes aware that his or her child has provided us with information without their consent, he or she should contact us at info@replay.app. We will delete such information from our files within a reasonable time.
Security
We are concerned about safeguarding the confidentiality of your information. We provide physical, electronic, and procedural safeguards to protect information we process and maintain. For example, we limit access to this information to authorized employees and contractors who need to know that information in order to operate, develop or improve our Platform. We also use an industry leading provider for all transactions and payment processing. Please be aware that, although we endeavor provide reasonable security for information we process and maintain, no security system can prevent all potential security breaches. We are not responsible for breaches caused by third party providers, general security issues that may arise from using mobile or web-based services, or carelessness by users. We will never ask a user for their social security number when servicing your account. If someone posing as a representative of our business contacts you and asks for this information please alert us immediately at info@replay.app.
Changes
This Privacy Policy may be updated from time to time for any reason. We will notify you of any changes to our Privacy Policy by posting the new Privacy Policy on our website at www.replay.app and/or www.perfectgame.org and/or informing you via email or text message. You are advised to consult this Privacy Policy regularly for any changes, as continued use is deemed approval of all changes.
Your Consent
By using the Application, you are consenting to our processing of your information as set forth in this Privacy Policy now and as amended by us. "Processing," means using cookies on a computer/hand held device or using or touching information in any way, including, but not limited to, collecting, storing, deleting, using, combining and disclosing information, all of which activities will take place in the United States. If you reside outside the United States your information will be transferred, processed and stored there under United States privacy standards.
Contact Us
If you have any questions regarding privacy while using the Application, or have questions about our practices, please contact us via email at info@replay.app.
Contact Us
Drop us a line to find out more about our apps, advertising,
or partnering us to grow your business: